Looking to add an outdoor kitchen to your home? Designing an outdoor kitchen can add an elegant touch to your space, encourage you to cook fun and healthy meals at home, and increase your property value.
Use our informative outdoor kitchen planning guide to help you navigate the ins-and-outs of designing and installing an outdoor kitchen.
Outdoor Kitchen Design
One of the first things to consider when planning for an outdoor kitchen is the design. Will your outdoor kitchen design be an extension of your indoor kitchen or a standalone space? If it's the latter, you may need a sink and refrigerator in addition to a grill, storage, and counter space.
Consider the distance between your indoor and outdoor space. Do you really want to carry utensils and ingredients back and forth?
You don't need a huge area to create an outdoor kitchen, but if you want larger groups consider how much space you will require. Many outdoor kitchens are between 10ft and 16ft long and are 24ft wide, but it can be as large as your backyard can accommodate (source).
Also, make sure to consider safety in your outdoor kitchen planning. Keep your grills away from seating areas and provide plenty of lighting in case you want to cook later in the evening.
Materials to Consider For Your Outdoor Kitchen
Choosing materials for your outdoor kitchen design is slightly different than indoors simply because they will be more exposed to the elements and harsher weather conditions.
Choose materials that can hold up under any kind of weather. The material should be water and grease-resistant, like high-quality stainless steel. Granite or travertine work well for counters and add an elegant touch to the space.
Finally, consider materials that will be easy to clean off since the easier it is to maintain your outdoor kitchen, the more often you'll want to enjoy it!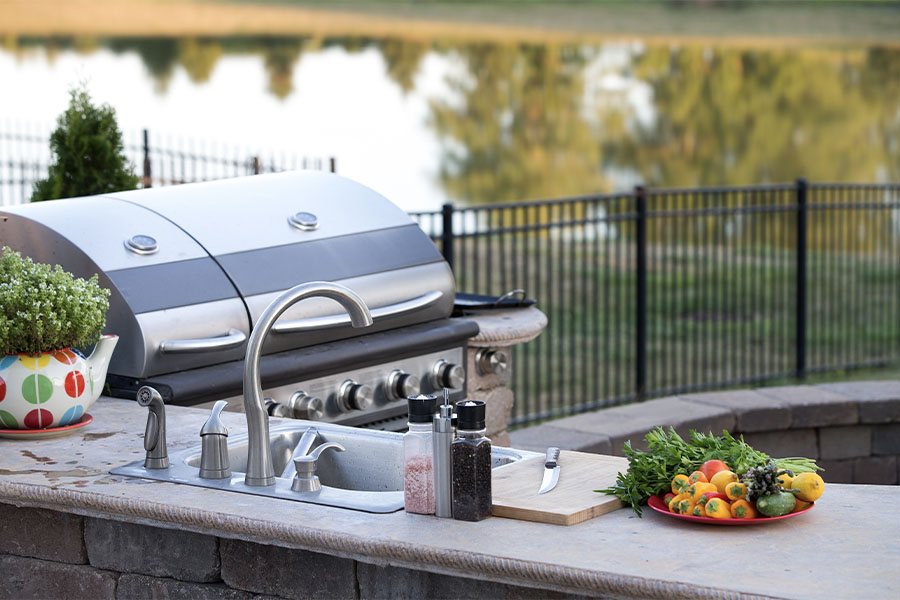 Outdoor Kitchen Appliances and Features
As mentioned, the appliances and features will vary depending on if you want a standalone outdoor kitchen or if you just want an extension of your indoor kitchen.
Some appliances and features to consider for an outdoor kitchen include:
Grill
Wood stove or smoker
Storage Space & Cabinets
Refrigerator & Freezer
Sink
Prep and Counter Space
Outdoor Dishwasher
Island Bar
Seating
Dining Table
Custom Fireplace or Firepit
Entertainment System
Ceiling Fans
Cost Expectations For Your Outdoor Kitchen
When outdoor kitchen planning, really the sky (and your budget) are the only limits! It can be done for as low as $5,000, but on average most outdoor kitchens cost in the range of $25,000-$50,000. This is why it is important to understand your project requirements and desired feature sets when planning for an outdoor kitchen installation.
However, the investment in an outdoor kitchen is certainly worth it. One study found that the return on investment (ROI) of an outdoor kitchen is between 100% and 200%. For these reasons, outdoor kitchens can be justified for its ability to bring an elegant touch to your property with the potential to increase property resell value.
Outdoor Kitchen Installation: DIY vs Professional Contractor
Outdoor kitchens have grown in popularity in recent years, as they add value to your home and create a fun space that encourages you to spend time with family and friends and cook at home.
You can DIY an outdoor kitchen, but if you are planning to do a full outdoor kitchen we don't recommend it. You will need to manage plumbing, electrical, and gas, not to mention a plan for winterization. When it comes to outdoor kitchen design, it's typically best to do it with a professional.
Professional Outdoor Kitchen Installation Services
View our recent project completed by the team at Solicito & Son Contracting.  This elegant custom pavilion features an outdoor kitchen, fireplace and entertainment system. From start to finish, Solicito & Son Contracting can help you design the perfect outdoor kitchen and living space.