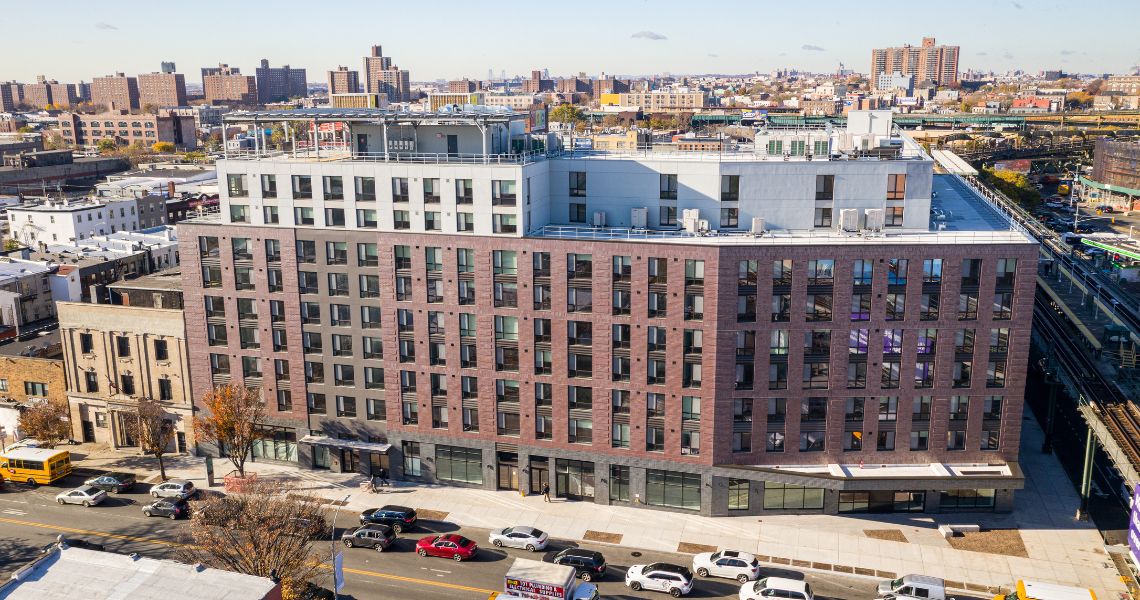 Aerial view of 50 Penn at 50 Pennsylvania Avenue – Courtesy of Pennrose and RiseBoro Community Partnership
Developed by Pennrose with design by Dattner Architects, 50 Penn is a remarkable mixed-use affordable housing complex in East New York, Brooklyn. On-site amenities include a fitness center, a community room, and a landscaped terrace. The ground floor features an 18,500-square-foot grocery store and two additional retail spaces, leased as part of the East New York Retail Preservation Program, which supports local businesses.
Solicito and Son provided landscaping services for the stunning outdoor terrace at 50 Penn in Brooklyn, NY. The terrace features a variety of beautiful design elements, including pedestal pavers, decking, artificial turf, custom metal planters, gardening, planting, and irrigation systems.
Our team is eager to bring the same level of quality and attention to detail to your next project. Contact us today to speak with our team, and let us help you create an outdoor space that will be both beautiful and functional. We are committed to working closely with you to ensure that the end result is nothing short of exceptional.
Artificial Turf
Custom Metal Planters
Gardening and Planting
Irrigation System Installation
Modular Seating
Pedestal Pavers
Pedestal Decking
Commercial Landscapers in Brooklyn