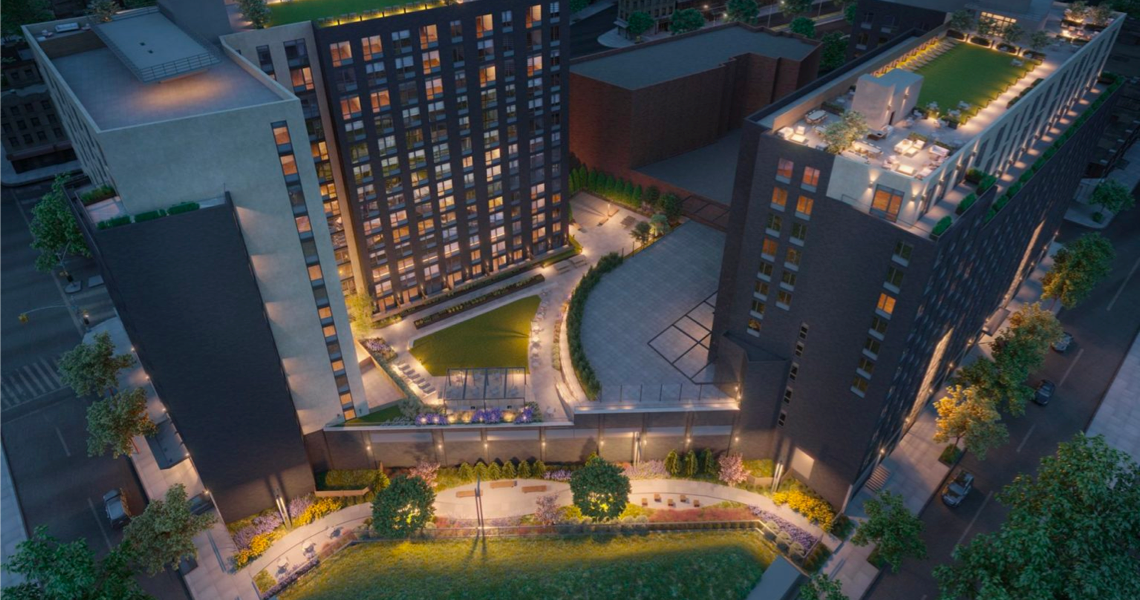 Rendering of 69-02 Queens Boulevard. Designed by Perkins Eastman
Construction has reached its final height at 69-02 Queens Boulevard, where a pair of 12- and 15-story mixed-use buildings are taking shape on the border of Elmhurst and Woodside, Queens. These structures, designed by Perkins Eastman in collaboration with the New York City School Construction Authority and Madison Realty Capital, comprise a sprawling 500,000-square-foot complex, which includes 478 mixed-income apartments, a public school, as well as retail and outdoor public spaces.
Solicito and Son played a pivotal role in the transformation of the 69-02 Queens Boulevard commercial project. As the entrusted landscaping partner, we took on an extensive range of responsibilities to enhance the project's outdoor spaces. We used our landscaping expertise to provide a wide array of services, including the installation of drainage systems, creation of concrete walkways and benches, meticulous placement of IPE decking, expertly crafted fencing, gardening & planting, stylish terrace dividers, and custom outdoor planters.
Our expert landscaping team also added a touch of elegance through edging, constructed an inviting pergola, and installation of the outdoor kitchen area. Our team skillfully integrated synthetic turf to elevate the green aesthetic, while precast stair treads and a rubber safety surface were meticulously integrated for enhanced accessibility and safety. Finally, we added a finishing touch with carefully selected outdoor furniture, creating an inviting and functional oasis within the bustling urban landscape.
Solicito and Son's commitment to excellence and expertise in landscaping contributed to the project's outdoor glamour. We are honored to have worked with all of our partners to help deliver the beautiful space for 69-02 Queens Boulevard.
Artificial Turf
Concrete Walkways
Concrete Benches
Custom Planters
Fencing
Gardening and Planting
IPE Decking
Irrigation & Drainage Systems
Landscape Design
Outdoor Furniture
Pergola Installation
Precast Stair Treads
Rubber Safety Surface
Terrace Dividers
Commercial Landscapers in Flushing, NY