An outdoor fireplace is more than a beautiful feature. It's a place for gathering with family and friends, a source of warmth, and a stunning addition to any landscape. Solicito & Son, with over 40 years of experience in Metro New York including Rockland County, Bergen County, Hudson County, Westchester County, Fairfield County, and all of New York City, specializes in helping you choose and install the perfect outdoor fireplace to suit your needs.
Finding the Right Fit - Your Outdoor Fireplace Needs and Preferences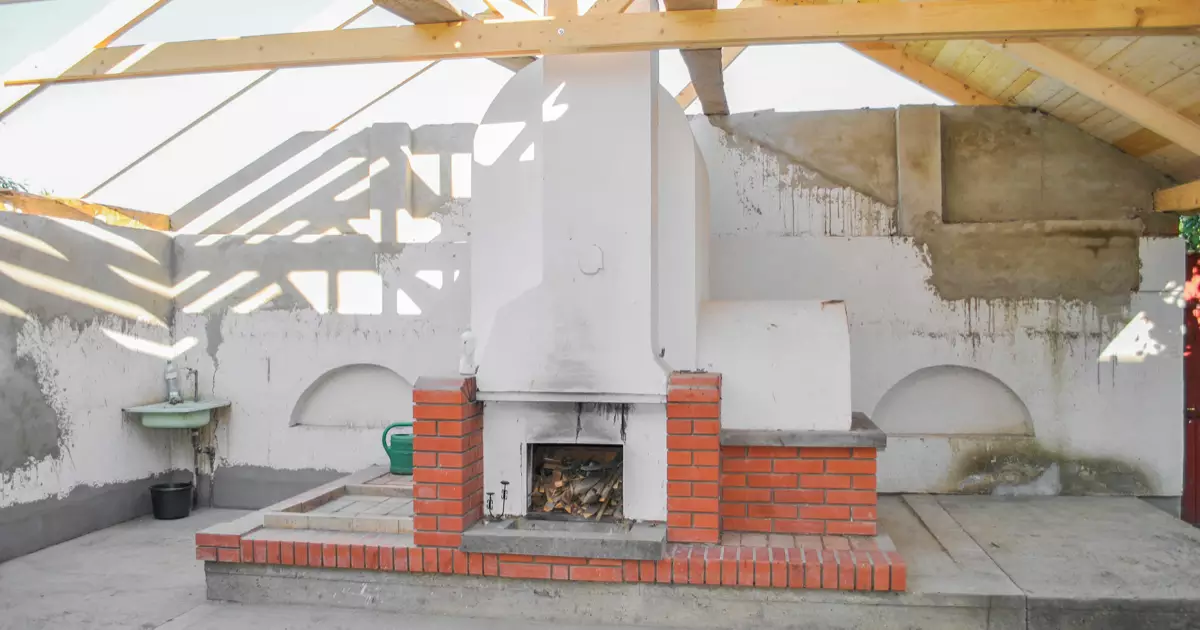 Before diving into the various fireplace options, let's understand what you want from your outdoor fireplace. Here are some essential considerations:
Space Analysis
Whether you have a vast lawn or a cozy patio, understanding the available space will guide the size and design of the fireplace. Solicito & Son offers free consultations to assess your yard and recommend the best fit.
Purpose
Are you dreaming of outdoor dinners by the fire or simply warming up on chilly nights? Identifying the primary function of your fireplace helps in tailoring it to your needs.
Budget Considerations
We understand that budget varies. From simple and elegant designs to grand statements, we have something to suit every pocket. Let's explore the possibilities together!
Types of Outdoor Fireplaces – Wood, Gas, Ethanol, and More
Selecting the right type of fireplace is a fundamental part of creating the perfect outdoor ambiance. Whether you prefer the traditional charm of wood-burning or the convenience of gas and ethanol, each option has its unique characteristics. Here's a breakdown of some choices you might consider:
Wood-Burning Fireplaces
There's nothing quite like the allure of a real wood fire. It offers a warm, comforting glow and that delightful crackling sound. While these fireplaces require regular cleaning and maintenance, many homeowners find the authentic, rustic experience entirely worth the effort. Just imagine toasting marshmallows over the embers on a cool evening!
Gas Fireplaces
If convenience is a priority, a gas fireplace could be your perfect match. These models provide the warmth and glow of a real fire without the hassle of chopping wood or cleaning up ash. With easy-to-use controls, you can start your fire in seconds and adjust the heat level as needed.
Ethanol Fireplaces
For those seeking a sleek, modern look, an ethanol fireplace could be the answer. These fireplaces are known for their environmental friendliness and easy maintenance, and they blend seamlessly into contemporary designs. Plus, since they don't produce smoke, there's no need for a chimney or vent, offering greater flexibility in placement.
Portable vs. Permanent Fireplaces
Your lifestyle and preferences can also dictate whether a portable or permanent fireplace is right for you. If you like the idea of being able to rearrange your outdoor space as needed, a portable fireplace offers that flexibility. However, if you're looking for a more substantial, long-term addition to your landscape that can also potentially add value to your home, a permanent fireplace might be a better choice.
With various fireplace types on the market, it's essential to select a model that fits both your aesthetic tastes and practical needs. Carefully consider the ambiance, maintenance requirements, and usability of each option before making your decision.
Designing Your Outdoor Fireplace – Style, Safety, and Integration Tips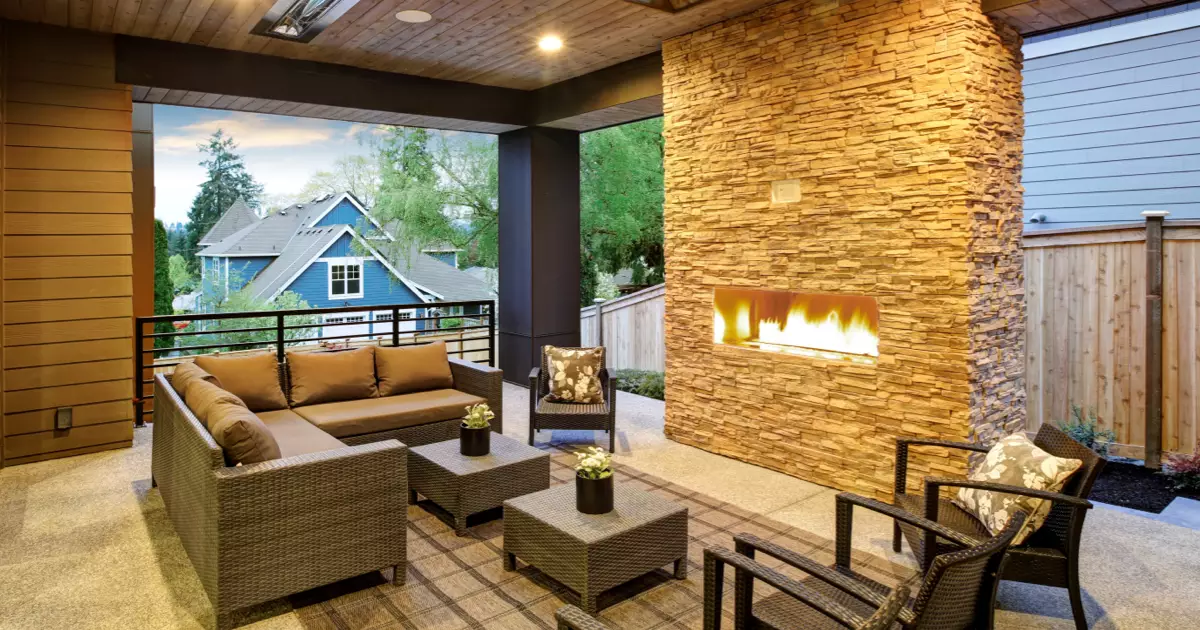 Designing your fireplace should be a joyous process, full of creativity, practicality, and individual expression. The perfect outdoor fireplace adds warmth and resonates with personal style, reflecting the uniqueness of every home. Here's an approach to consider for the design:
Style and Aesthetics
An outdoor fireplace is more than a source of warmth; it can be a statement of elegance and individuality. Whether it's rustic brick invoking traditional charm or chic natural stone for a modern twist, the fireplace should mirror personal taste. The right guidance through materials, finishes, and architectural features can craft a fireplace that complements the home's design.
Safety Considerations
Safety is a priority when designing a fireplace. Adhering to local regulations and focusing on proper ventilation and safe distances from other structures ensures that the fireplace is as safe as it is beautiful. These considerations allow homeowners to enjoy their outdoor fireplace with peace of mind.
Integration with Existing Landscape
A well-designed fireplace should feel like a natural extension of the existing landscaping. Whether nestled into a garden corner or made the centerpiece of a patio, the design should enhance the outdoor space without clashing with it. Evaluating existing elements like plantings, walkways, and water features helps create a harmonious integration, elevating the entire landscape.
Personalized Approach
Every dream fireplace is personal and should be treated with respect and attention to preferences, lifestyle, and vision. A custom design that fits the backyard and resonates with the heart turns the outdoor fireplace dream into a warm reality.
Creating the perfect outdoor fireplace is not just a project but a collaborative journey filled with exploration, creativity, and realization. By focusing on style, safety, integration, and personalization, homeowners can find the ideal design that not only adds ambiance but becomes an integral part of the outdoor living experience.
Outdoor Fireplace Maintenance and Care - Seasonal Tips
Once your dream fireplace is installed, keeping it in great condition becomes a priority. Proper maintenance isn't just about preserving aesthetics; it ensures safety, functionality, and longevity. Whether it's a classic wood-burning fireplace or a modern ethanol design, a regular care routine will keep your outdoor fireplace looking and performing its best throughout the seasons. Here's a way to approach maintenance:
Regular Maintenance Tips
Maintaining a fireplace doesn't have to be a chore. Understanding detailed guidance for cleaning the burners, checking the seals, and choosing the right fuel can make all the difference. Knowing the materials your fireplace is made of and how to care for them can keep everything in top-notch condition.  Contact our team to learn more about maintaining your custom outdoor fireplace.
Seasonal Considerations
The changing weather requires a tailored approach to outdoor fireplace care. From winterizing the fireplace to prevent frost damage to preparing it for summer evenings, seasonal tips can protect your investment. Following simple yet effective steps to preserve the functionality and appearance of the outdoor fireplace through both hot summers and freezing winters ensures that it is always ready to serve.
Proper maintenance of your outdoor fireplace is an essential aspect of home care. Regular attention and seasonal preparation can keep your fireplace safe, functional, and beautiful, allowing you to enjoy the warm glow all year round.
Choose Solicito & Son for Your Outdoor Fireplace Installation
Your backyard is not just an outdoor space – it's a part of your home. Contact the team at Solicito and Son if you are ready to transform your backyard with a stunning outdoor fireplace. With over 40 years of experience, Solicito & Son is more than a landscaping company – we are your landscaping partners for creating the perfect outdoor ambiance.
Solicito & Son provides landscaping services in Rockland County, Bergen County, Hudson County, Westchester County, Fairfield County, and all of New York City. Request a free quote today for your outdoor fireplace installation. Let us help you turn your dreams into reality.