Summer is just around the corner, and with it comes BBQs, juicy strawberries, ice cream, and long sunny days at the pool!
The warm season is perfect for spending time al fresco with your loved ones while sipping on your favorite drinks and splashing around in the pool.
Yet, things can get a little underwhelming if you're hosting poolside drinks or dinners and your pool area is bare and uninspiring.
Whether it'd be adding plants, working on the lighting, or adding a pergola to your pool space, here are five pool landscaping ideas that will help you turn your pool area into a beautiful sanctuary you and your loved ones will be able to enjoy all summer.
1. Mix Uplighting and Downlighting
Nothing beats lighting when it comes to enhancing the ambiance of your pool area!
Using uplighting and downlighting can help highlight specific features in your garden or courtyard, adding interest to the patio area around your pool. Besides, using uplights or downlights to illuminate trees, flower beds, water features, or architectural elements and pathways will provide a luxury resort feel to your outdoor area while also increasing safety.
What better way to jazz up your backyard than adding an epic water feature to your pool surroundings?
For instance, installing a waterfall or rain fall curtain will add allure and charm to your pool, and turn it into a relaxing haven with a luxury spa feel.
Some other popular pool water features include water walls, fountains and scuppers.
3. Choose Non-Slip Stone Pavers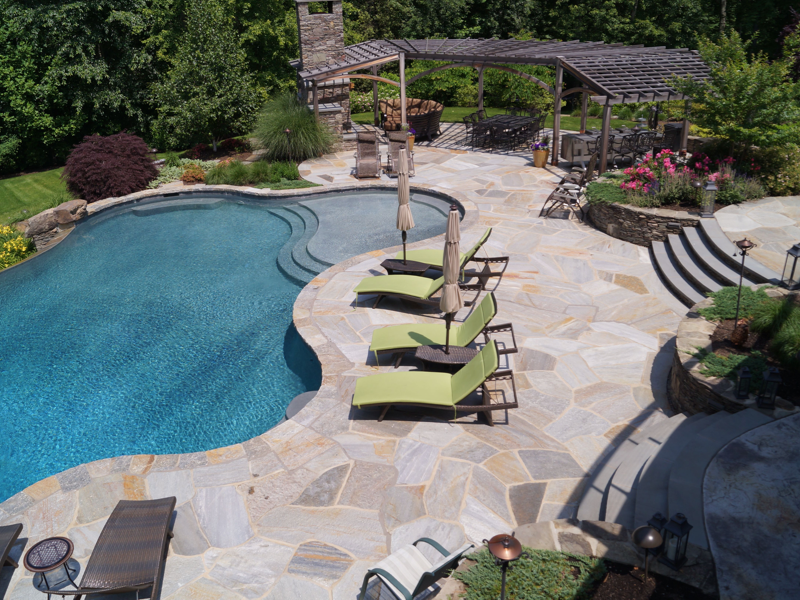 Using stone pool pavers can immediately upgrade your pool area's aesthetics and improve its function.
Now, choosing the right type of stones is important as it will allow your pavers to harmoniously blend with your garden and give a seamless finish to your pool.
To truly enhance your pool, make sure to select colors that compliment your home and outdoor space. For instance, let's say you have a dark timber deck. While bluestone pavers are stunning, the color will clash with your deck. In that scenario, you should go with a lighter marble or limestone option to allow for a seamless transition between surfaces.
Also, your pool surrounding is a high traffic area that tends to receive a lot of water. So, having non-slip stone pavers is a no-brainer to ensure the safety of all.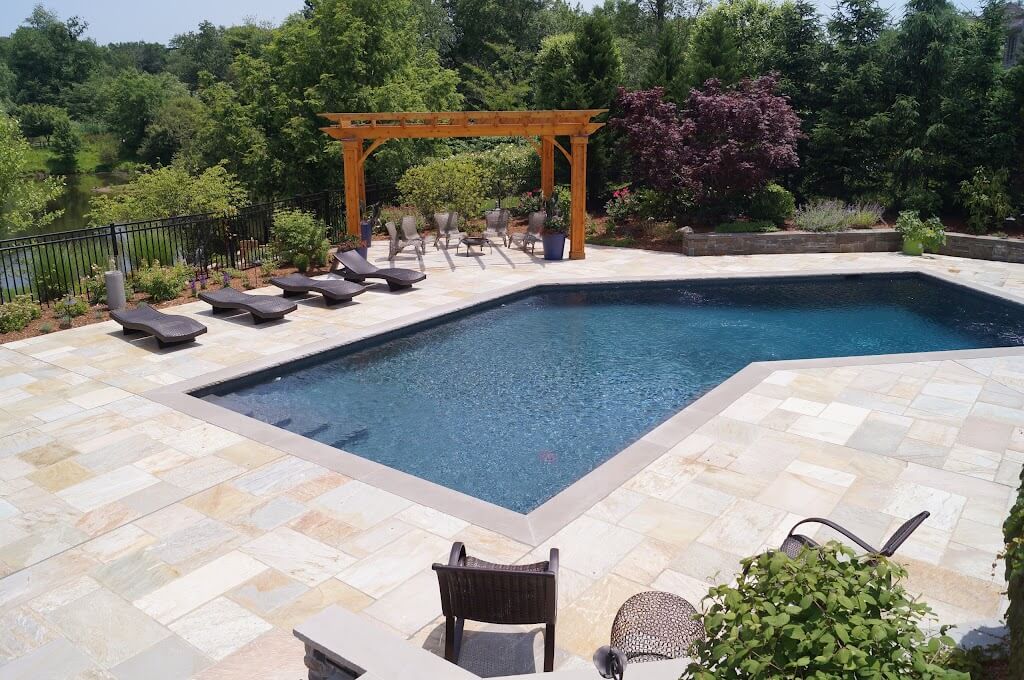 Give a Mediterranean feel to your poolside area by adding a pergola to the space. Sculptural trellises and luxuriant pergolas will add charm and character to your entire home while providing a great entertaining space and some well-needed shade during hot summer days.
You can even make your pergola a natural extension of your outdoor space with climbers and vines. And to add some vibrancy to your pergola, use Bougainvilleas, Wisterias, or Passionflowers.
5. Add Plants to Create A Tropical Oasis
Adding plants to your pool surroundings is a great way to add color, vibrancy, and fragrance to your outdoor area. You don't have to limit your use of plants to the sides of the pool. You can also build a small island at the center of your pool and plant some gorgeous species there. This will be sure to help you create a stay-cation-worthy oasis!
How would you like to feel like you're holidaying on a gorgeous Pacific island without leaving your home?
That's exactly what you could do by incorporating wild tropical vegetation into your poolside. To create your poolside tropical paradise, mix up plants such as Orchids, Cannas, Palms, Tropical Hibiscus, or Agave attenuata. And if you like to entertain, your little oasis will be sure to wow your guests. After all, who doesn't like the look of an island getaway?
Need Help Enhancing Your Poolside Area?
At Solicito & Son Contracting, we have been helping clients like you turn their pool area into the space of their dreams for years.
Our highly-skilled team of designers, craftsmen, and landscapers is passionate about turning our clients' visions into inviting and inspiring spaces that they'll enjoy spending time in with their loved ones for years to come.
So, if you need help enhancing your pool area and live in Rockland County, NY, don't hesitate to get in touch. We'd love to have a chat!
Our Landscape Design Service Areas
Solicito & Son Contracting services Metro New York, including Rockland County, Bergen County, Hudson County, Westchester County, Fairfield County, and all of New York City. We are continuously expanding our service area reach. If you do not see your county or area in the list above, contact our team to work with Solicito & Son Contracting.