Everyone loves the look of a lush green lawn, but what if you don't have the time to maintain one? Artificial turf is an excellent option for those looking to save time and money on yard work without sacrificing the appeal of a gorgeous lawn.
Artificial turf is a type of man-made synthetic material that is used to imitate natural grass. You'll recognize it from mini-golf courses and sporting arenas, but it's now commonly used for residential and commercial lawns as well.
What are the Benefits of Artificial Turf?
1. Cost Savings
If you're looking to save both time and money, artificial turf is a great choice. Once installed, you'll have beautiful artificial grass that won't need to be watered or mowed. You can enjoy a pristine lawn without having to invest in sprinkler systems, weed whackers, lawnmowers, or lawn care services.
2. Minimal Maintenance
Without having to mow, weed, or water your lawn, you'll have more time to relax and enjoy your weekends. If your turf gets dirty, all it takes is a simple cleaning with your garden hose to get it looking new again.
3. Environmentally Friendly
Your artificial turf lawn does not require any chemicals to keep it in pristine condition. You will no longer need to spray pesticides as the pests that would typically infest your grass are incapable of surviving in the artificial turf. Your lawn also won't need any fertilizers in the spring to keep it lush and green.
4. Safe For Kids and Pets
Since your artificial turf is free of harmful chemicals, it's a much safer place for children and pets to play. There's also the added benefit that your pets will no longer have the urge to dig in your yard, meaning no more messy paws tracking through the house!
5. Durability
Artificial turf is designed to withstand harsh weather conditions, the changing seasons, and heavy foot traffic without damage or wear. This helps to reduce any concerns you have about anyone or anything ruining your perfect yard.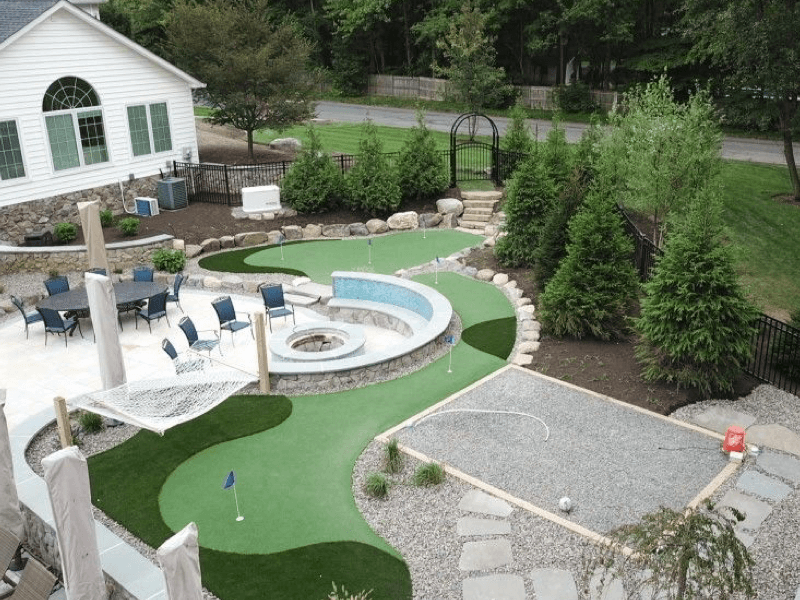 Artificial Turf Installers in Rockland County, NY