At the heart of any great outdoor living space is a beautifully designed and expertly installed stone patio or walkway. When planning your hardscaping project, the stone you choose will help to define the look and feel of your outdoor living space. Each stone has a unique style, so it's best to keep your overall design aesthetic in mind when making your decision.
To help you get inspired, we've created a list of 6 great options that we think you're going to love for your next hardscaping project!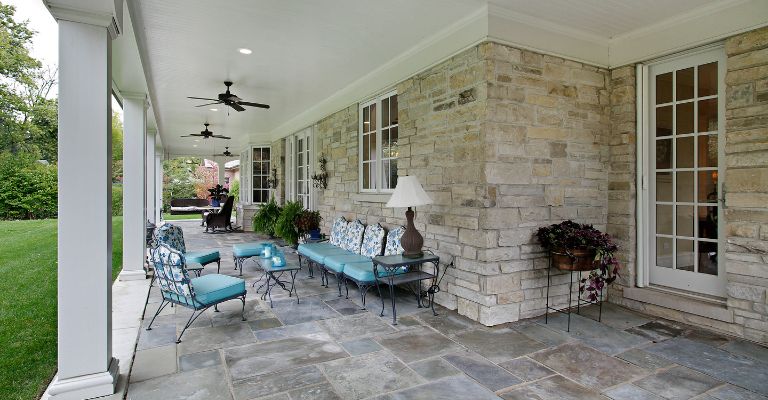 While bluestone is known for its beautiful blue-gray hues, it can also be found in various green and rust tones. Each stone has a uniquely textured surface with varying thicknesses and colors. Its elegant appearance makes it a common choice for patios and walkways.
Advantages of Using Bluestone
Bluestone can be cut into various shapes and sizes, allowing for complete customization of your patio design. It can also be purchased in its freeform or "broken" format, creating a more natural look similar to fieldstone. It's great for homes in colder climates as it's freeze-resistant.
Disadvantages of Using Bluestone
Bluestone is very porous and will lose its luster and depth if left unsealed. Luckily, it can look new again once cleaned and sealed. Since the stones will often have some irregularities, ensure that you're using an experienced hardscape landscaper that can install your stones properly. Darker stones can get very hot, so they're not recommended for pool areas.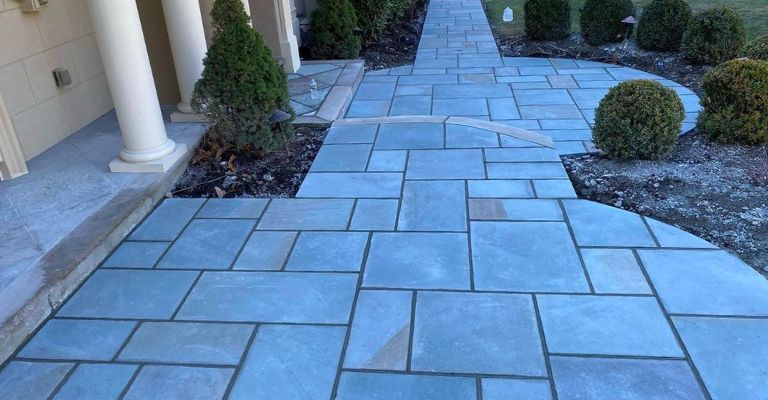 Image above is a recent project completed by Solicito & Son Contracting
Thermal bluestone is the result of a heat blasting process applied to bluestone. Where bluestone comes in a more textured and raw-looking finish, thermal bluestone is much smoother without any distinctive raised or sunken areas. It provides a more uniform look with few variations in the surface texture of the stone.
Advantages of Using Thermal Bluestone
Thermal bluestone has a very sleek look with consistent texture across all of the stones in your design. The non-slip surface from the heat treatment process applied to the stone makes it a good option for pool areas when purchased in a lighter color. It's also much easier for hardscape landscapers to install because of the uniform thickness and cuts.
Disadvantages of Using Thermal Bluestone
The thermal process is costly, making these stones more expensive.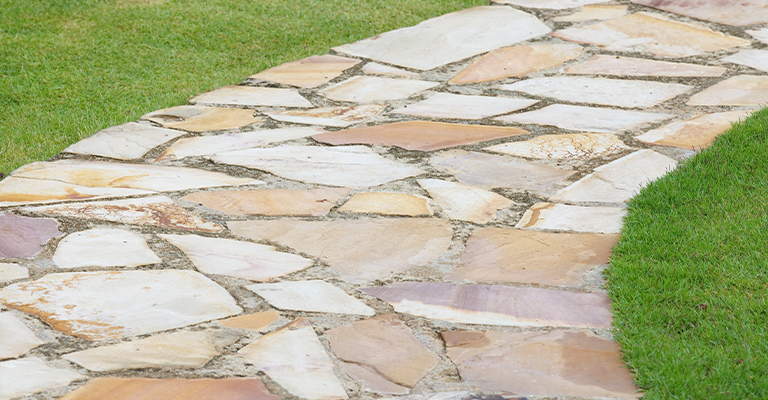 Fieldstones create a more rustic feeling as they're irregular in shape, color, and size. These naturally occurring stones are perfect for creating stepping-stone pathways through your yard and garden.
Advantages of Using Fieldstone
Since little is done to modify their appearance, these stones create a more natural look in your outdoor living space. Since no two stones are alike, every design is unique. Fieldstones are a simple way to make a walkway without needing mortar or other hardscaping materials.
Disadvantages of Using Fieldstone
Their irregular shape can prevent stone patio installers from perfectly leveling them and fitting them together seamlessly. They aren't ideal for an outdoor dining space.
Brick is a timeless stone that is perfect for creating an old-fashioned look reminiscent of an old English garden. They're typically made of clay which gives them their distinct reddish color. These stones are great if you're looking to create a more traditional look.
Advantages of Using Brick
Stone patio installers can make quick work of laying brick for your hardscaping project even though mortar is required between each stone. The classic look is easy to replace if stones crack or deteriorate with time. They're easy to clean with a garden hose and will retain their colors over time. Brick also allows for versatility in designs if you'd like a basket-weave or herringbone pattern.
Disadvantages of Using Brick
The material and labor costs can be on the higher end. While brick does dry quickly, shaded areas can keep the bricks damp, causing moss to grow. It's absorbent and not as durable as stone which can cause it to weaken and crumble over time.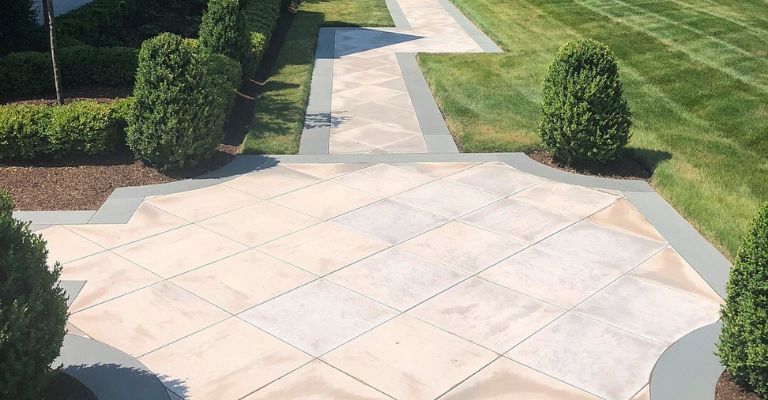 Image above is a recent project completed by Solicito & Son Contracting.
Project features a limestone walkway bordered with bluestone.
Limestone is universally timeless and has been used in architecture all over the world for thousands of years. It's also extremely versatile and available in various textures, shapes, colors, and surface treatments. Like bluestone, it can also receive a thermal treatment to create a more uniform surface texture.
Advantages of Using Limestone
The variety of light colors deflect heat and keep these stones from getting hot in the sun. This makes them an excellent choice for hardscaped patios and surrounding pools if you're often barefoot in the summer.
Disadvantages of Using Limestone
Limestone is quite vulnerable to anything acidic, so it's best to keep it away from any fruit trees to avoid potential staining. It's also quite heavy, which can lead to more expensive transportation costs.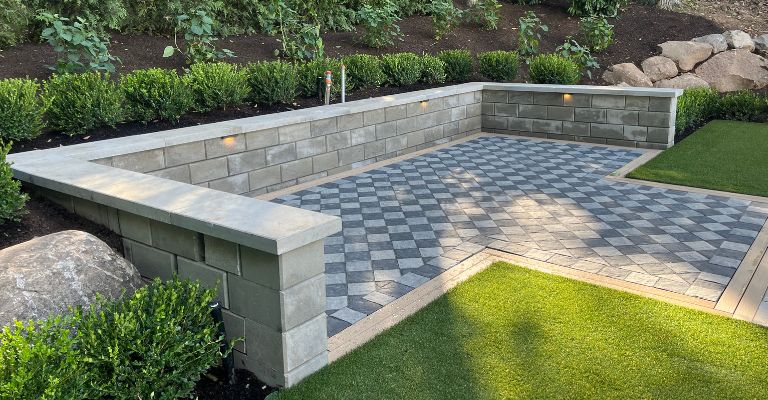 Image above is a recent project completed by Solicito & Son Contracting
Concrete pavers are an affordable alternative to the more costly hardscaping stones. They're made by pouring cement into molds and forms which allows for versatility in their shapes and colors. Concrete pavers allow homeowners to get the look of stone and brick without the high cost.
Advantages of Using Concrete
Concrete pavers are durable, and come in a wide range of sizes, making them an attractive option for homeowners who want something that will last but don't necessarily have the time or money to do significant upkeep on their stone patio surfaces. They're also highly customizable as they can be pressed with ornamental patterns or have their surfaces molded to mimic real stone.
Disadvantages of Using Concrete
Dyed concrete pavers can fade and lose their color over time, especially in sunny areas. There can also be a drastic variation in quality, so it's best to work with a professional paver installer that is known for their exceptional quality.
Ask The Expert Hardscaping Contractors
Overall, each of these stones has its own advantages when it comes to creating your beautifully hardscaped patio. If you're looking for stone patio cost information, hardscape landscaping ideas, or more help in choosing which stone type is best for your needs, our team at Solicito & Son would be delighted to help. Contact us today to request a free quote for your next project.
Our family-owned business has over 35 years of experience designing and installing impressive landscapes and hardscapes with unwavering attention to detail and exceptional craftsmanship. Solicito & Son Contracting offers landscaping services in NJ, NY and NYC.  We can help you conceptualize the outdoor space of your dreams and suggest the best stones for your project.